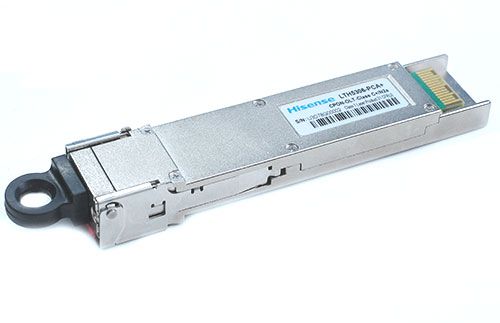 LTH5306 XFP OLT Transceiver
XG-PON/GPON Combo OLT Quadplexer
The LTH5306 is a combination of XG-PON OLT and GPON OLT optical transceivers in an XFP housing. It is designed to support both the new ITU-T G.987.2 XG-PON and the legacy ITU-T G.984.2 GPON specifications over a single fiber via coarse wave division multiplexing. The XG-PON bidirectional link is configured with 1270nm/1577nm optics and the GPON link is configured with 1310nm/1490nm optics. The 1270nm and 1310nm optical burst mode receivers incorporate APD/TIA optics for maximum sensitivity. The 10G transmitter incorporates a 1577nm EML laser assembly and the 2.5G transmitter incorporates a 1490nm DFB laser assembly. The transmitters can be controlled by the LVTTL Tx_DISABLE function and the receivers incorporates the LVTTL Rx_SD output.
The LTH5306 is designed to support up to 32/64 subscribers over distances of up to 20km.
It is FDA 21CFR1040.10 and IEC 60825-2 Class I laser safety compliant and meets the EEC Directive 2002/95/EC for RoHS compliance.
加入询单
Product Name
Part Number
Package
Interface
Reach
Temp
Tx Output
Tx Rate
Tx Wavelength
Rx Input
Rx Rate
Rx Wavelength
XGPON&GPON
Combo OLT
C+
LTH5306-PCB+
XFP
SC
20km
C
4~8dBm
3~7dBm
9.953Gb/s
2.488Gb/s
1577nm
1490nm
-29.5dBm
-32dBm
2.488Gb/s
1.244Gb/s
1270nm
1310nm
• 10 Gigabits Access networks
• FTTH
• FTTB
• FTTC
• XFP Package
• 3.3V and 5V DC power supply
• 4 Lambda
• SC receptacle optical connector
• Hot pluggable
• 2x15 XFP Electrical Interface
• ITU-T G.987.2 N1/N2a compliant
• ITU-T G.984.2 Class B+/C+ compliant