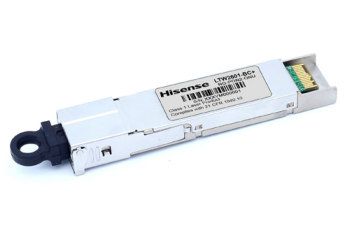 LTW2601 XFP NG-PON2 ONU Transceiver
Beta2+ Symmetrical 9.953Gbps ONU
The LTW2601 is intended for NG-PON2 ONU applicat with a C-band 9.95328Gbps BM upstream transmitter and a L-band 9.95328Gbps CW downstream in XFP housing.
The module is configured receiver which work in TDM configuration. The transmitters can be controlled by the LVTTL Tx_Disable function and the receivers incorporates the LVTTL Rx_LOS output.
The LTW2601 is designed to support up to 32 subscribers over distances of up to 20km in the ODN.
It is FDA 21CFR1040.10 and IEC 60825-2 Class I laser safety compliant and meets the EEC Directive 2002/95/EC for RoHS compliance.
加入询单
Product Name
Part Number
Package
Interface
Reach
Temp
Tx Output
Tx Rate
Tx Wavelength
Rx Input
Rx Rate
Rx Wavelength
NG-PON2 ONU
LTW2601C-BC+
XFP
SC
20km
C
4~9dBm
@ER≥6dB
9.953Gb/s
1532.68/1533.47/
1534.25/1535.04nm
-28dBm
9.953Gb/s
1596.34/1597.19/
1598.04/1598.89nm
• NG-PON2 Access networks
• Fiber to the Home
• Fiber to the Building
• Fiber to the Curb
• XFP Package
• Single 3.3V DC power supply
• 2 Lambda
• Single SC receptacle optical connector
• Hot pluggable
• 2x15 XFP Electrical Interface
• Optical Transmitter
C-band Burst Mode EML
9.95328Gb/s data rate
4X100GHz Tunable
LVCML AC Coupled input
• Optical Receiver
CW APD/TIA receiver
9.95328Gb/s data rate
4X100GHz Tunable
LVCML AC Coupled output
• Control and Monitor Interface
LVTTL Tx_Disable
LVTTL Mod_Abs
LVTTL Rx_LOS
LVTTL Tx_SD
LVTTL Mod_Disable
• I2C Serial Data
SCL Serial Clock Input
SDA Serial Data I/O