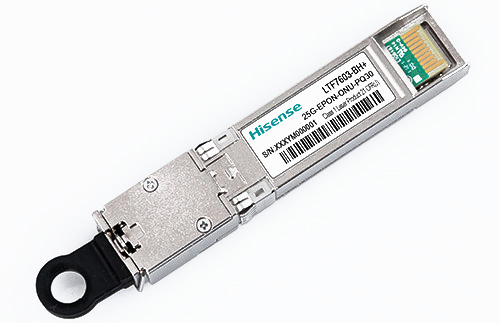 SFP28 25GS-PON ONU Transceiver
The LTF7603-BH+ is intended for 25GS-PON ONU transceiver in SFP28 housing , which is based on the latest 25GS-PON Specification V1.0. It is using a cooled 1286nm DML laser, which can support 24.8832Gbps and 9.953Gbps, works in burst mode and it is using an Oband 1358nm 24.8832Gbps downstream continuous receiver. The transmitters can be controlled by the LVTTL Tx_Burst function and the re ceivers incorporate the LVTTL Rx_LOS output.
The LTF7603 is designed to support up to 32 subscribers over distances of up to 20km in the ODN. It meets the EEC Directive 2002/95/EC for RoHS compliance.
加入询单
Product Name
Part Number
Package
Interface
Reach
Temp
Tx Output
Tx Rate
Tx Wavelength
Rx Input
Rx Rate
Rx Wavelength
25GSPON ONU
LTF7603-BH+
SFP28
SC
20km
H
4.78dBm~
25.78125/24.8832Gb/s
9.953/10.3125Gb/s
1286nm/1300nm
-24.9dBm
25.78125/24.8832Gb/s
1358nm
• 25GS-PON Access networks
• FTTH
• FTTB
• FTTC
• SFP28 Package
• 3.3V power supply
• 2 Lambda
• Single SC receptacle optical connect
or
• Hot pluggable
• 2x10 SFP28 Electrical Interface